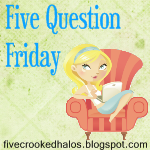 1. Who is the better cook, you or your spouse?
Since its just me, this is a given. But I am a good cook.
2. How often do you talk to your mom?
Probably every couple of weeks. But she's on facebook so we interact daily. Talking on the phone while the boys are awake is not possible.
3. Are you adventurous in the kitchen or stick to the recipe?
I think of recipes as a guildine or idea generator. I will loosely follow a recipe the first time, then its off on my own.
4. Is your second toe longer than your big toe?
On one foot yes, the other no.
5. Do you dress up for Halloween? (Bonus question: What will you be this year?)
Always. This year, a mop. Why you ask, because MOPs is the abbreviation for my department at work and we are all coming as mops. I may dress up differently on Sunday when the boys and I go out. The mop reference will be less relevant then.